v2095-841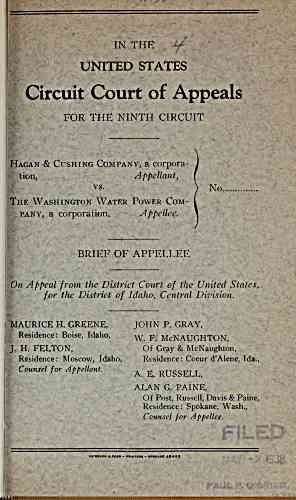 IN THE
UNITED STATES
Circuit Court of Appeals
FOR THE NINTH CIRCUIT
Hagan & CusHiNG Company, a corpora-
tion, Appellant,
vs. No.
The Washington Water Power Com-
pany, a corporation. Appellee.
BRIEF OF APPELLEE
On Appeal from the District Court of the United States,
for the District of Idaho, Central Di-c'isio).
MAURICE H. GREENE,
Residence: Boise, Idaho,
FELTON,
Residence: Moscow, Idaho,
Counsel for Appellant.
JOHN P. GRAY,
McNAUGHTON,
Of Gray & McNaughton,
Residence: Coeur d'Alene, Ida.,
RUSSELL,
ALAN G. PAINE,
Of Post, Russell, Davis & Paine,
Residence : Spokane, Wash.,
Counsel for Appellee.
PETERSON A ROSS PRINTERS ftPOKANS 4t492
jJMMmwr'iiV''
---
archive.org Volume Name: govuscourtsca9briefs2095
Volume: http://archive.org/stream/govuscourtsca9briefs2095
Document Link: http://archive.org/stream/govuscourtsca9briefs2095#page/n840/mode/1up
Top Keywords (auto-generated):
substation, motor, single, power, current, moscow, phase, device, negligence, electric, wires, motors, system, plant, fuses
Top Key Phrases (auto-generated):
single phase, single phasing, moscow substation, res ipsa, protective device, ipsa loquitur, water power, hagan cushing, washington water, protective devices, hagan gushing, sub station, high voltage, feeder lines, phase current
Document Status: UGLY