v2101-523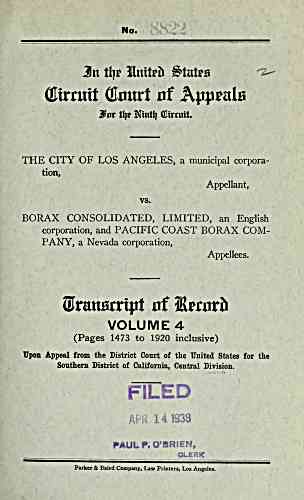 No.
Oltrrmt Olourt of Appeals
3tiv tlf? Ntntlf Qltrrtttt.
THE CITY OF LOS ANGELES, a municipal corpora-
tion,
Appellant,
vs.
BORAX CONSOLIDATED, LIMITED, an English
corporation, and PACIFIC COAST BORAX COM-
PANY, a Nevada corporation.
Appellees.
airattsmpt af Sworft
VOLUME 4
(Pages 1473 to 1920 inclusive)
Upon Appeal from the District Court of the United States for the
Southern District of California, Central Division.
FILED
At 141938
PAUL P. O'BRIEN,
Parker & Baird Company. Law Printers, Los Angeles.
---
archive.org Volume Name: govuscourtsca9briefs2101
Volume: http://archive.org/stream/govuscourtsca9briefs2101
Document Link: http://archive.org/stream/govuscourtsca9briefs2101#page/n522/mode/1up
Top Keywords (auto-generated):
city, harbor, los, angeles, thence, ashburn, work, banning, butts, land, borax, island, right, county, distance
Top Key Phrases (auto-generated):
los angeles, san pedro, mormon island, harbor commissioners, santa monica, southern pacific, chains thence, angeles harbor, angeles county, bench mark, cross deputy, harbor lines, borax consol, grounds heretofore, los angeles.
Document Status: UGLY