v2101-975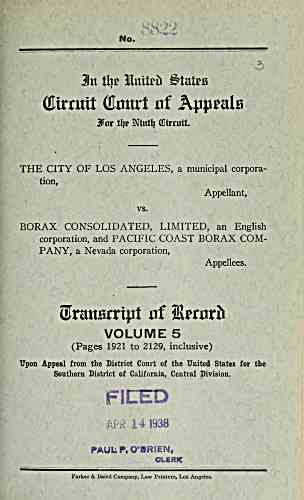 No.
3
3n tlP Hnitrii BUtsB
(Hxvtmt (Hnnvt tit KppmlB
3tiv III? JJttttlf (Etrrmt.
THE CITY OF LOS ANGELES, a municipal corpora-
tion,
Appellant,
vs.
BORAX CONSOLIDATED, LIMITED, an English
corporation, and PACIFIC COAST BORAX COM-
PANY, a Nevada corporation.
Appellees.
VOLUMES
(Pages 1921 to 2129, inclusive)
Upon Appeal from the District Court of the United States for the
Southern District of California, Central Division.
FiCED
MiK 14 1938
f*AULP, O'BRIEN,
CLERK
Parker & Baird Company, Law Printers, Los Angeles.
---
archive.org Volume Name: govuscourtsca9briefs2101
Volume: http://archive.org/stream/govuscourtsca9briefs2101
Document Link: http://archive.org/stream/govuscourtsca9briefs2101#page/n974/mode/1up
Top Keywords (auto-generated):
water, tide, high, low, island, harbor, range, ashburn, survey, patton, lower, raymond, tides, coast, datum
Top Key Phrases (auto-generated):
low water, high water, lower low, los angeles, mormon island, high tide, bench mark, geodetic survey, angeles harbor, datum plane, outer harbor, inner harbor, san pedro, water mark, mormon island.
Document Status: UGLY