v2106-899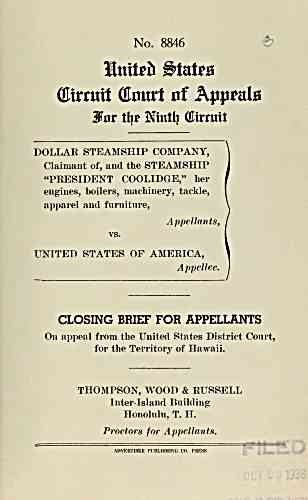 No. 8846 "b
dtrrmt dour of Aptf ab
j0r tljF Ntnllf (Utrrutt
DOLLAR STEAMSHIP COMPANY,
Claimant of, and the STEAMSHIP
"PRESIDENT COOLIDGE," her
engines, boilers, machinery, tackle,
apparel and furniture.
Appellants,
vs.
UNITED STATES OF AMERICA,
Appellee.
CLOSING BRIEF FOR APPELLANTS
On appeal from the United States District Court,
for the Territory of Hawaii.
THOMPSON, WOOD & RUSSELL
Inter-Island Building
Honolulu, T. H.
Proctors for Appellants.
ADVEUTISER PUBLlSHINfi CO. PKESS
---
archive.org Volume Name: govuscourtsca9briefs2106
Volume: http://archive.org/stream/govuscourtsca9briefs2106
Document Link: http://archive.org/stream/govuscourtsca9briefs2106#page/n898/mode/1up
Top Keywords (auto-generated):
harbor, refuse, arthur, dumped, steamship, waters, statute, coolidge, boat, vessel, rubbish, president, violation, statutes, sections
Top Key Phrases (auto-generated):
steamship president, president coolidge, sections 407, 412 title, tackle apparel, saw rubbish, machinery tackle, honolulu harbor, engines boilers, dollar steamship, boilers machinery, 407 411, wood russell, title 33, though entirely
Document Status: UGLY