v2111-895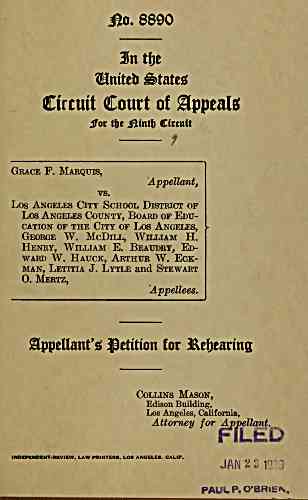 Mo. 8890
Winitth ^tateg
Circuit Court ot ^ppealg
Jfor tje iCntJ Circuit
GrRACE F. Marquis,
vs.
Appellant,
Los Angeles City School District of
Los Angeles County, Board of Edu-
cation OF THE City of Los Angeles,
GrEORGE W. McDiLL, WiLLIAM H.
Henry, William E. Beaudry, Ed-
ward W. Hauck, Arthur W. Eck-
MAN, Letitia J. Lytle and Steavart
Mertz,
Appellees.
Appellant's petition for Eefjearing
Collins Mason,
Edison Building,
Los Angeles, California,
Attorney for Appellant,
INDEPENDENT-REVIEW, LAW PRINTERS, LOS ANGELES. CALIF.
JAN 2 C TM
PAUL P. O'BRIEN,
~ --
---
archive.org Volume Name: govuscourtsca9briefs2111
Volume: http://archive.org/stream/govuscourtsca9briefs2111
Document Link: http://archive.org/stream/govuscourtsca9briefs2111#page/n894/mode/1up
Top Keywords (auto-generated):
art, wall, invention, patent, obvious, 2d, problem, ed, room, patentee, honorable, corp, skilled, los, improvements
Top Key Phrases (auto-generated):
los angeles, existing wall, bearing wall, skilled persons, outside face, san francisco, respectfully submits, joist ends, francisco cornice, fatal shortcomings, collins mason, wood 288, winitth tateg, whitney 224, webster loom
Document Status: UGLY