v2138-915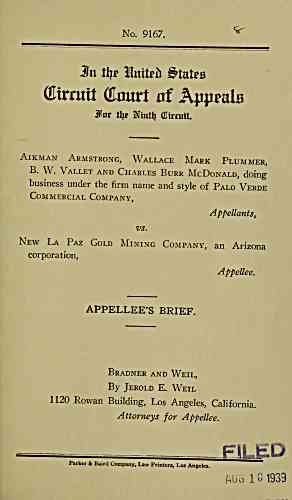 No. 9167. "^
3n tijp IniteJi StateB
(Extmxt (Unurt ^f Appmia
3nr tlf Niiitli (Eirrutt.
AiKMAN Armstrong, Wallace Mark Plummer,
Vallet and Charles Burr McDonald, doing
business under the firm name and style of Palo Verde
Commercial Company,
Appellants,
vs.
New La Paz Gold Mining Company, an Arizona
corporation.
Appellee.
APPELLEE'S BRIEF.
Bradner and Weil,
By Jerold E. Weil
1120 Rowan Building, Los Angeles, California.
Attorneys for Appellee.
Parker & Baird Company, Law Printers, Los Angeles.
AUa 1"1939
---
archive.org Volume Name: govuscourtsca9briefs2138
Volume: http://archive.org/stream/govuscourtsca9briefs2138
Document Link: http://archive.org/stream/govuscourtsca9briefs2138#page/n914/mode/1up
Top Keywords (auto-generated):
property, partnership, pac, arizona, jurisdiction, tax, pipe, assessment, mcdonald, cal, taxes, code, partners, owner, supra
Top Key Phrases (auto-generated):
personal property, palo verde, verde commercial, revised code, david mines, arizona 1928, corpus juris, charles burr, armstrong plummer, severally liable, burr mcdonald, mining claims, buried underground, aikman armstrong, wallace mark
Document Status: UGLY