v2138-997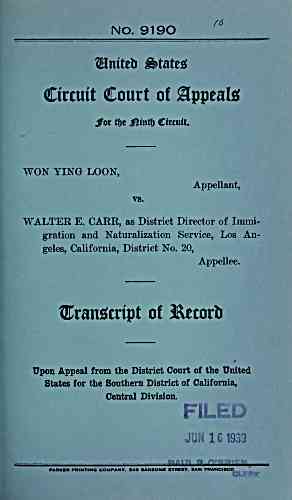 NO. 91 90 ^'^
Winittti ^tatesf
Circuit Court of Appeals?
Jfor tfje Mintfi Circuit.
WON YING LOON,
Appellant,
vs.
WALTER E. CARR, as District Director of Immi-
gration and Naturalization Service, Los An-
geles, California, District No. 20,
Appellee.
Crangcript of Eecorli
Upon Appeal from the District Court of the United
States for the Southern District of California,
Central Division.
Mi 1 6 1933
PARKER PRINTING COMPANY. 848 SANSOME STREET. SAN FRANCISCO
---
archive.org Volume Name: govuscourtsca9briefs2138
Volume: http://archive.org/stream/govuscourtsca9briefs2138
Document Link: http://archive.org/stream/govuscourtsca9briefs2138#page/n996/mode/1up
Top Keywords (auto-generated):
won, ying, loon, district, california, walter, carr, habeas, 1938, corpus, village, house, 1939, petition, immigration
Top Key Phrases (auto-generated):
ying loon, won ying, habeas corpus, won doo, district director, san francisco, los angeles, southern district, april 1939., won gim, special inquiry, home village, carr district, won jung, louie fung
Document Status: UGLY