v2165-581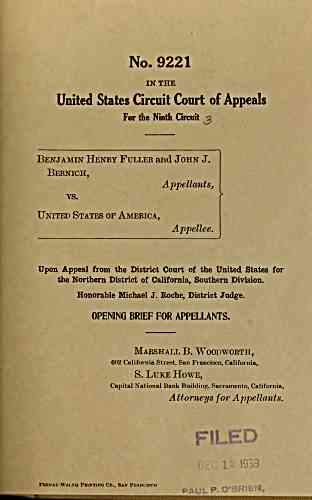 No. 9221
IN THE
United States Circuit Court of Appeals
For the Ninth Circuit ^
Benjamin" Henry Fuller and John J.
Bernich,
Ajpellants,
vs.
United States of America,
Appellee.
Upon Appeal from the District Court of the United States for
the Northern District of California, Southern Division.
Honorable Michael J. Roche, District Judge.
OPENING BRIEF FOR APPELLANTS.
Marshall B. Woodworth,
602 California Street, San Francisco, California,
Luke Howe,
Capital National Bank Building. Sacramento, California,
Attorneys for Appellants.
Peknau-Walsu Printing Co., San KnANcisco
FILED
PAUL P. O'BRIEN,
---
archive.org Volume Name: govuscourtsca9briefs2165
Volume: http://archive.org/stream/govuscourtsca9briefs2165
Document Link: http://archive.org/stream/govuscourtsca9briefs2165#page/n580/mode/1up
Top Keywords (auto-generated):
fuller, mine, gold, affidavits, indictment, woodworth, bernich, amador, prosecution, reserve, count, counts, affidavit, 1936, california
Top Key Phrases (auto-generated):
fuller mine, federal reserve, amador county, amador queen, gold reserve, george franklin, franklin fuller, regularly excepted., fuller sr., san francisco, jackson amador, northern district, affi davits, moore mine, income tax
Document Status: UGLY