v2180-289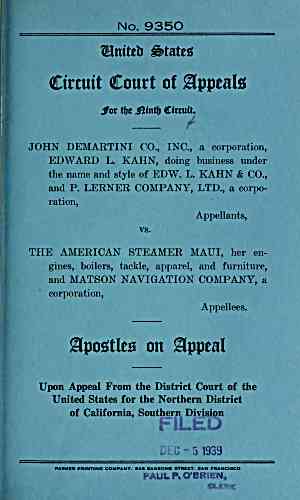 No. 9350
^ntteti States
Circuit Court of appeals
Jfor tfie Mintf) Citcuft.
/
JOHN DEMARTINI CO., INC., a corporation,
EDWARD L. KAHN, doing business under
the name and style of EDW. L. KAHN & CO.,
and P. LERNER COMPANY, LTD., a corpo-
ration,
Appellants,
vs.
THE AMERICAN STEAMER MAUI, her en-
gines, boilers, tackle, apparel, and furniture,
and MATSON NAVIGATION COMPANY, a
corporation.
Appellees.
^posftlea on Appeal
Upon Appeal From the District Court of the
United States for the Northern District
of California, Southern Division
1939
PARKER PRINTING COMPANY. 645 SANSOME STREET. SAN FRANCISCO
PAUL P, O'BRIEN,
---
archive.org Volume Name: govuscourtsca9briefs2180
Volume: http://archive.org/stream/govuscourtsca9briefs2180
Document Link: http://archive.org/stream/govuscourtsca9briefs2180#page/n288/mode/1up
Top Keywords (auto-generated):
maui, ship, cargo, october, dock, vessel, respondents, demartini, ss, crew, tweedt, american, john, lasky, port
Top Key Phrases (auto-generated):
john demartini, american ss., san francisco, matson navigation, steamer maui, chill boxes, labor troubles, october 27, engine room, perishable cargo, 27 1936, october 28th, october 26, ss maui, october 1936
Document Status: UGLY