v2197-351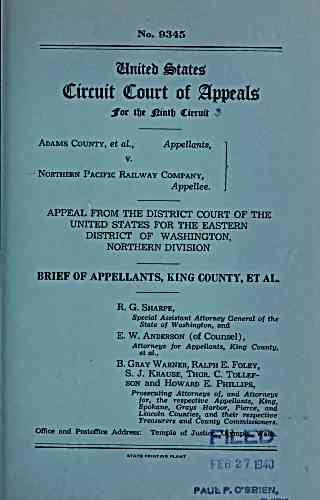 No. 9345
^niteb States
Circuit Court of ^ppeafe
Jfor tt) ^intfi Circuit 3
Adams County, et al, Appellants,
Northern Pacific Railway Company,
Appellee.
APPEAL FROM THE DISTRICT COURT OF THE
UNITED STATES FOR THE EASTERN
DISTRICT OF WASHINGTON,
NORTHERN DIVISION
BRIEF OF APPELLANTS, KING COUNTY, ET AL.
Sharpe,
Special Assistant Attorney General of the
State of Washington, and
Anderson (of Counsel),
Attorneys for Appellants, King County,
et al.,
Gray Warner, Ralph E. Foley,

Krause, Thor. C. Tollef-
SON and Howard E. Phillips,
Prosecuting Attorneys of, and Attorneys
for, the respective Appellants, King,
Spokane, Grays Harbor, Pierce, and
Lincoln Counties, and their respective
Treasurers and County Commissioners.
Office and Postoffice Address: Temple of JustiiV.t)Jxmpia, Wash.
STATE PRINTING PLANT
t 1S40
PAUb. P. O'BRIEN,
---
archive.org Volume Name: govuscourtsca9briefs2197
Volume: http://archive.org/stream/govuscourtsca9briefs2197
Document Link: http://archive.org/stream/govuscourtsca9briefs2197#page/n350/mode/1up
Top Keywords (auto-generated):
washington, property, commission, tax, system, freight, 1935, operating, stock, assessment, interstate, net, 1936, method, earnings
Top Key Phrases (auto-generated):
tax commission, interstate freight, operating property, net earnings, mileage prorate, 1936 assessment, 1935 assessment, non carrier, freight revenue, joint facility, land grant, turnburke method, intrastate freight, operating expenses, wash ington
Document Status: UGLY