v2213-337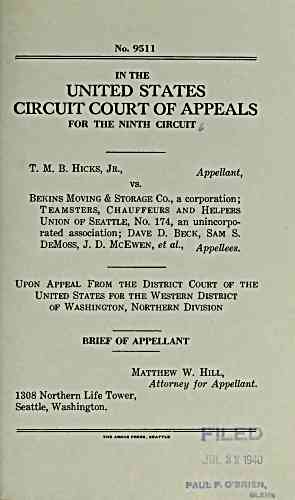 No. 9511
IN THE
UNITED STATES
CIRCUIT COURT OF APPEALS
FOR THE NINTH CIRCUIT
Hicks, Jr., Appellant,
VS.
Bekins Moving & Storage Co., a corporation;
Teamsters, Chauffeurs and Helpers
Union of Seattle, No. 174, an unincorpo-
rated association; Dave D. Beck, Sam S.
DeMoss, J. D. McEwEN, et al, Appellees,
Upon Appeal From the District Court of the
United States for the Western District
OF Washington, Northern Division
BRIEF OF APPELLANT
Matthew W. Hill,
Attorney for Appellant.
1308 Northern Life Tower,
Seattle, Washington.
THE ARGUS PRESS, SEATTLE
Z 2 194U
PAUU P. 0'BRN,
---
archive.org Volume Name: govuscourtsca9briefs2213
Volume: http://archive.org/stream/govuscourtsca9briefs2213
Document Link: http://archive.org/stream/govuscourtsca9briefs2213#page/n336/mode/1up
Top Keywords (auto-generated):
1939, november, dismissal, district, bekins, affiant, moore, rules, affidavit, assignment, fullerton, hill, calendar, reinstatement, 2d
Top Key Phrases (auto-generated):
moving storage, bekins moving, assignment calendar, november 27, western district, froude hilen, federal rules, allen froude, teamsters chauffeurs, national bank, los angeles, judicial discretion, civil procedure, carnegie national, 27 1939
Document Status: UGLY