v2213-377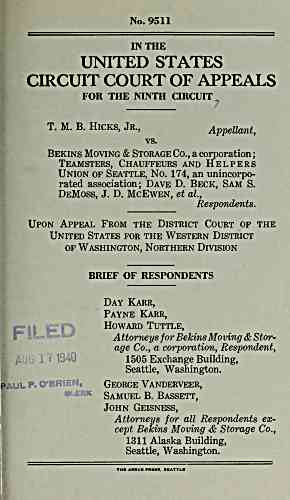 No. 9511
IN THE
UNITED STATES
CIRCUIT COURT OF APPEALS
FOR THE NINTH CIRCUIT
7
Hicks, Jr., Appellant,
vs.
Bekins Moving & Storage Co., a corporation;
Teamsters, Chauffeurs and Helpers
Union of Seattle, No. 174, an unincorpo-
rated association; Dave D. Beck, Sam S.
DeMoss, J. D. McEwen, et aL,
Respondents.
Upon Appeal From the District Court of the
United States for the Western District
of Washington, Northern Division
BRIEF OF RESPONDENTS
FSLD
Day Karr,
Payne Karr,
Howard Tuttle,
A ttorneys for Bekins Moving & Stor-
age Co.y a corporation, Respondent,
1340 1505 Exchange Building,
Seattle, Washington.
UL P. O'BRIEN, George Vanderveer,
Samuel B. Bassett,
John Geisness,
Attorneys for all Respondents ex-
cept Bekins Moving fe Storage Co.,
1311 Alaska Building,
Seattle, Washington.
LR1(
THB ARGUa PRESS, SEATTLE
I
---
archive.org Volume Name: govuscourtsca9briefs2213
Volume: http://archive.org/stream/govuscourtsca9briefs2213
Document Link: http://archive.org/stream/govuscourtsca9briefs2213#page/n376/mode/1up
Top Keywords (auto-generated):
district, dismissal, rules, federal, 48, prosecution, respondents, procedure, discretion, app, november, 1939, western, washington, civil
Top Key Phrases (auto-generated):
western district, federal rules, civil procedure, bekins moving, federal procedure, moving storage, sound discretion, procedure vol., district courts, southern district, seattle washington., november 27, involuntary dismissal, diligent prosecution, pending dismissal
Document Status: UGLY