v2236-109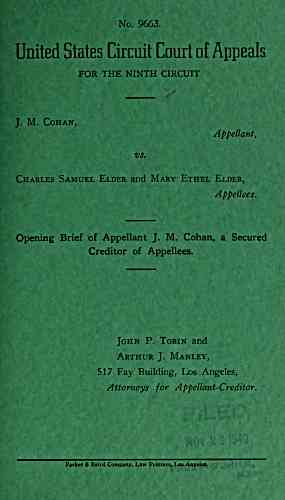 No. 9663.
United States Circuit Court of Appeals
FOR THE NINTH CIRCUIT
Cohan,
Appellantj
vs.
Charles Samuel Elder and Mary Ethel Elder,
Appellees,
Opening Brief of Appellant J. M. Cohan, a Secured
Creditor of Appellees.
John P. Tobin and
Arthur J. Manley,
517 Fay Building, Los Angeles,
Attorneys for Appellant-Creditor.
Parker & Baird Company, Law Printers, Los Angeles.
---
archive.org Volume Name: govuscourtsca9briefs2236
Volume: http://archive.org/stream/govuscourtsca9briefs2236
Document Link: http://archive.org/stream/govuscourtsca9briefs2236#page/n108/mode/1up
Top Keywords (auto-generated):
debtors, creditor, 1940, plan, commissioner, district, 75, petition, july, debtor, section, subdivision, conciliation, subsection, farmer
Top Key Phrases (auto-generated):
section 75, conciliation commissioner, farmer debtors, national bankruptcy, september 27, samuel elder, mary ethel, charles samuel, lemon grove, feels aggrieved, permitting debtors, ethel elder, 1940 78, statutory construction, march 27
Document Status: UGLY