v2237-383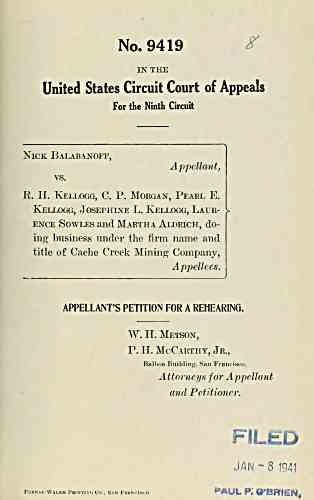 No. 9419
IN THE
S^
United States Circuit Court of Appeals
For the Ninth Circuit
Nick Balabanoff,
vs.
Appellant,
Kellogg, C. P. Morgan, Pearl E.
Kellogg, J osephine L. Kellogg, Laur-
ence SowLES and Martha Aldrich, do-
ing business under the firm name and
title of Cache Creek Mining Company,
Appellees.
APPELLANT'S PETITIOiN FOR A REHEARING.
Metson,

McCarthy, Jr.,
Ball)oa Building, San Francisco.
Attorneys for Appellant
and Petitioner.
rUHNAU-WALSH I'KI NTING C"0. , SAN FRANCISCO
FILtD
JAN - 8 1941
*AUL P. O'BRIEN,
---
archive.org Volume Name: govuscourtsca9briefs2237
Volume: http://archive.org/stream/govuscourtsca9briefs2237
Document Link: http://archive.org/stream/govuscourtsca9briefs2237#page/n382/mode/1up
Top Keywords (auto-generated):
water, ditch, creek, mining, appropriation, alaska, right, waters, stream, predecessors, rights, courts, nugget, claims, rules
Top Key Phrases (auto-generated):
nugget creek, van dyke, midnight sun, alaska 1933, sun mining, section 3456, mining ditch, district courts, ap propriation, 37 stat., territorial courts, san francisco, price ditch, placer mining, nick balabanoff
Document Status: UGLY