v2249-471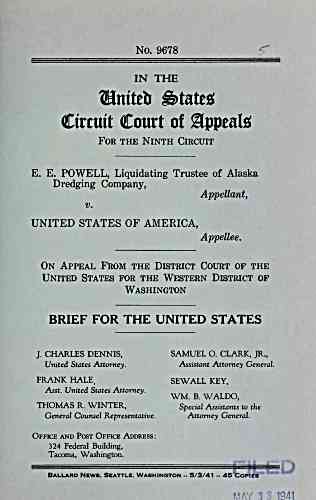 No. 9678
IN THE
Winitth States;
Circuit Court ot ^pptal^
For the Ninth Circuit
POWELL, Liquidating Trustee of Alaska
Dredging Company,
Appellant,
UNITED STATES OF AMERICA,
Appellee.
On Appeal From the District Court of the
United States for the Western District of
Washington
BRIEF FOR THE UNITED STATES
CHARLES DENNIS, SAMUEL O. CLARK, JR.,
United States Attorney. Assistant Attorney General.
frank hale. sewall key,
Asst. United States Attorney.
WM. B. WALDO,
THOMAS R. winter, Special Assistants to the
General Counsel Representative. Attorney General.
Office and Post Office Address :
324 Federal Building,
Tacoma, Washington.
Ji'H Bli 'il l "
Ballard News, Seattle, Washington -- 5/3/41 -- 45 Copies
MAY 1 3 1941
---
archive.org Volume Name: govuscourtsca9briefs2249
Volume: http://archive.org/stream/govuscourtsca9briefs2249
Document Link: http://archive.org/stream/govuscourtsca9briefs2249#page/n470/mode/1up
Top Keywords (auto-generated):
claims, 2d, commissioner, basis, march, 1913, 1933, tax, powell, contract, cca, property, fair, right, market
Top Key Phrases (auto-generated):
fair market, mining claims, alaska dredging, ad justed, western district, waldo thomas, special assistants, sewall key, powell liquidating, liquidating trustee, key asst., frank hale., dennis samuel, charles dennis, ap pellant
Document Status: UGLY