v2267-597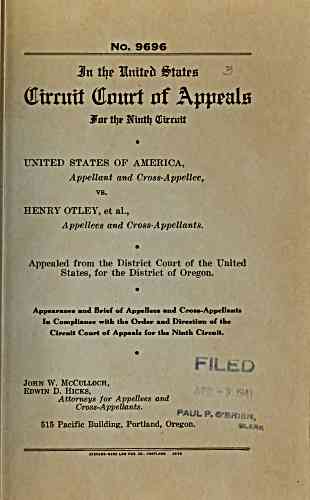 NO. 9696
3n lift Intteb BtuttB
Oltrrmt Olourt of Appals
JFnrtljpNttttljaitrruit
UNITED STATES OF AMERICA,
Appellant and Cross-Appellee,
vs.
HENRY OTLEY, et al.,
Appellees and Cross- Appellants.
Appealed from the District Court of the United
States, for the District of Oregon.
Appearance and Brief of AppeUees and Cross-AppeUants
In Compliance witk the Order and Direction of the
Cireuit Court of Appeals for the Ninth Circuit.
FlLt.O
John W. McCulloch,
Edwin D. Hicks, .)/i
Attorneys for Appellees and
Cross-Appellants.
*=AUL P. BRliM,
515 Pacific Building, Portland, Oregon. 9LB.ii^
*TIVENS-NeSS LAW PUB. CO.. PORTLAND 4BC
---
archive.org Volume Name: govuscourtsca9briefs2267
Volume: http://archive.org/stream/govuscourtsca9briefs2267
Document Link: http://archive.org/stream/govuscourtsca9briefs2267#page/n596/mode/1up
Top Keywords (auto-generated):
survey, meander, lake, lands, malheur, land, neal, water, lines, patents, lots, government, section, islands, title
Top Key Phrases (auto-generated):
malheur lake, henry otley, land office, neal survey, land department, meander lines, high water, public survey, water mark, survey lines, mal heur, lands bordering, high points, unsurveyed lands, heur lake
Document Status: UGLY