v2271-751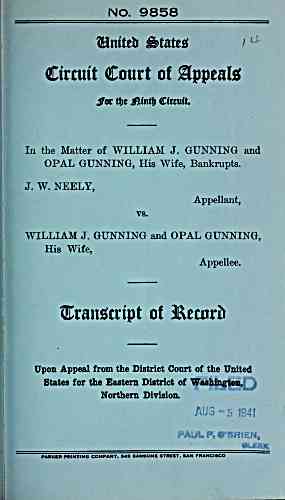 NO. 9858
Winitth States i ^
Ctrctttt Court of lUppeals;
Jfot tiie fiXxK% xvxiU
In the Matter of WILLIAM J. GUNNING and
OPAL GUNNING, His Wife, Bankrupts.
NEELY,
Appellant,
vs.
WILLIAM J. GUNNING and OPAL GUNNING,
His Wife,
Appellee.
Cransitript of Eecorli
Upon Appeal from the District Court of the United
States for the Eastern District of Washington,
Northern Division.
AU3-h 1941
LEI8K
PARKER PRINTING COMPANY. 545 SANSOME STREET. SAN FRANCISCO ~~~"
---
archive.org Volume Name: govuscourtsca9briefs2271
Volume: http://archive.org/stream/govuscourtsca9briefs2271
Document Link: http://archive.org/stream/govuscourtsca9briefs2271#page/n750/mode/1up
Top Keywords (auto-generated):
contract, property, debtors, petitioner, gunning, farm, william, washington, personal, petition, neely, paragraph, 1941, district, 1938
Top Key Phrases (auto-generated):
farm debtors, personal property, opal gunning, robertson smith, stevens county, eastern district, right title, prop erty, notary public, land bank, answering paragraph, section 75, purchase price, net proceeds, federal land
Document Status: UGLY