v2275-293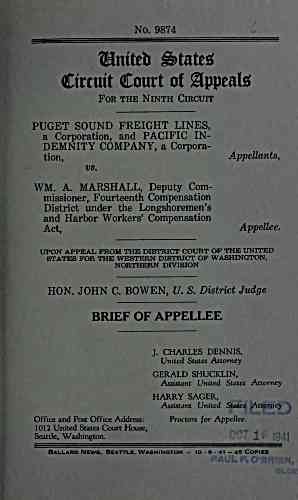 No. 9874
I
Circuit Court of ^pptaU
For the Ninth Circuit
PUGET SOUND FREIGHT LINES,
a Corporation, and PACIFIC IN-
DEMNITY COMPANY, a Corpora-
tion, Appellants,
vs.
WM. A. MARSHALL, Deputy Com-
missioner, Fourteenth Compensation
District under the Longshoremen's
and Harbor Workers' Compensation
Act, Appellee.
UPON APPEAL FROM THE DISTRICT COURT OP THE UNITED
STATES FOR THE WESTERN DISTRICT OF WASHINGTON,
NORTHERN DIVISION
HON. JOHN C. BOWEN, U. S. District Judge
BRIEF OF APPELLEE
CHARLES DENNIS,
United States Attorney
GERALD SHUCKLIN,
Assistant United States Attorney
HARRY SAGER,
Assistant United States Attorney
Office and Post Office Address: Proctors for Appellee.
1012 United States Court House,
Seattle, Washington.
Ballard News, Seattle, Washington -- 10 - 9 - 4i -- 45 Copies
---
archive.org Volume Name: govuscourtsca9briefs2275
Volume: http://archive.org/stream/govuscourtsca9briefs2275
Document Link: http://archive.org/stream/govuscourtsca9briefs2275#page/n292/mode/1up
Top Keywords (auto-generated):
deputy, commissioner, 2d, vessel, cca, longshoremen, district, crew, compensation, harbor, workers, dock, coal, supp, duties
Top Key Phrases (auto-generated):
deputy commissioner, harbor workers, chicago coal, workers compensation, puget sound, pillsbury deputy, lowe deputy, title 33, crowell deputy, coal dock, bassett deputy, western district, washington northern, traveling stevedore, sound freight
Document Status: UGLY