v2289-161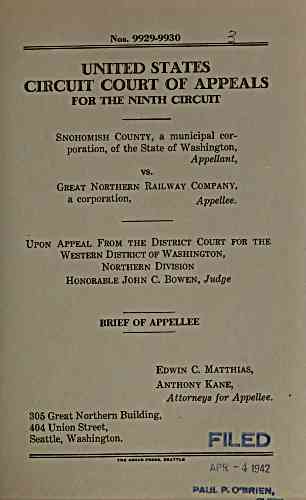 Nos. 9929-9930 ^
UNITED STATES
CmCUIT COUMT OF APPEALS
FOM THE NINTH CmCUTI
Snohomish County, a municipal cor-
poration, of the State of Washington,
vs.
Great Northern Railway Company,
a corporation. Appellee.
Upon Appeal From the District Court for the
Western District of Washington,
Northern Division
Honorable John C. Bowen, Judge
BRIEF OF APPELLEE
Edwin C. Matthias,
Anthony Kane,
Attorneys for Appellee.
305 Great Northern Building,
404 Union Street,
Seattle, Washington. FILO
THE AROUS PRESS, EBATTLB
hr ~ -i 1942
PAUL p. O'BRIEN,
---
archive.org Volume Name: govuscourtsca9briefs2289
Volume: http://archive.org/stream/govuscourtsca9briefs2289
Document Link: http://archive.org/stream/govuscourtsca9briefs2289#page/n160/mode/1up
Top Keywords (auto-generated):
county, railroad, fill, wash, road, pac, highway, 2d, culvert, negligence, city, support, duty, water, property
Top Key Phrases (auto-generated):
lateral support, highway fill, county road, fern bluff, railroad track, rail road, negligent construction, county commissioners, wagon road, contributory negligence, active negligence, highway culvert, furnish lateral, king county, 71 wash.
Document Status: UGLY