v2289-350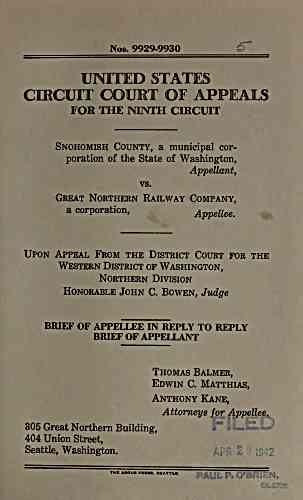 Nos. 9929-9930
UNITED STATES
imCUIT COUKT OF APPEALS
FOK THE NINTH CERCUIT
Snohomish County, a municipal cor-
poration of the State of Washington,
Appellantj
vs.
Great Northern Railway Company,
a corporation. Appellee.
Upon Appeal From the District Court for the
Western District of Washington,
Northern Division
Honorable John C. Bowen, Jiidge
BRIEF OF APPELLEE IN REPLY TO REPLY
BRIEF OF APPELLANT
Thomas Balmer,
Edwin C. Matthias,
Anthony Kane,
Attorneys for Appellee.
305 Great Northern Building, -'' i ^Uaik^ **-'
404 Union Street,
Seattle, Washington. ^9
THK AROUa PRESS, SCATTLS
---
archive.org Volume Name: govuscourtsca9briefs2289
Volume: http://archive.org/stream/govuscourtsca9briefs2289
Document Link: http://archive.org/stream/govuscourtsca9briefs2289#page/n349/mode/1up
Top Keywords (auto-generated):
county, railroad, highway, support, fill, lateral, wash, road, pac, negligence, slide, land, right, property, culvert
Top Key Phrases (auto-generated):
lateral support, highway fill, rail road, contributory negligence, adjoining land, adequate lateral, furnish adequate, sup port, seattle 116, coun ty, bend lumber, 199 pac., 116 wash., western district, washington northern
Document Status: UGLY