v2313-577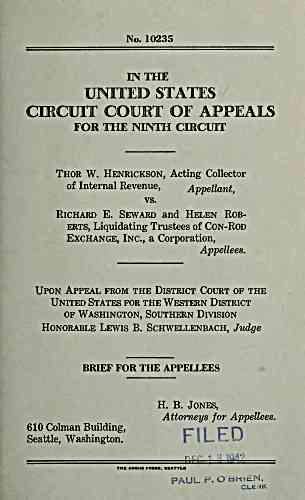 No. 10235
IN THE
UNITED STATES
CmCUIT COUBT OF APPEALS
FOM THE NINTH CERCUIT
Thor W. Henrickson, Acting Collector
of Internal Revenue, Appellant,
vs.
Richard E. Seward and Helen Rob-
erts, Liquidating Trustees of Con-Rod
Exchange, Inc., a Corporation,
Appellees.
Upon Appeal from the District Court of the
United States for the Western District
OF Washington, Southern Division
Honorable Lewis B. Schwellenbach, Jicdge
BRIEF FOR THE APPELLEES
610 Colman Building,
Seattle, Washington.
Jones,
Attorneys for Appellees.
FILED
THi; AROUS PRKaS, aiATTLB
PAUL P. O cJ^^c.N,
---
archive.org Volume Name: govuscourtsca9briefs2313
Volume: http://archive.org/stream/govuscourtsca9briefs2313
Document Link: http://archive.org/stream/govuscourtsca9briefs2313#page/n576/mode/1up
Top Keywords (auto-generated):
tax, res, judicata, ed, 2d, decision, supp, period, 42, taxpayer, federal, doctrine, ct, bank, taxes
Top Key Phrases (auto-generated):
res judicata, citizens bank, western maryland, maryland railway, rod exchange, excise tax, exchange inc., stone downer, connecting rods, 905 42, western district, washington southern, taxes paid, liquidating trustees, internal revenue
Document Status: UGLY