v2327-135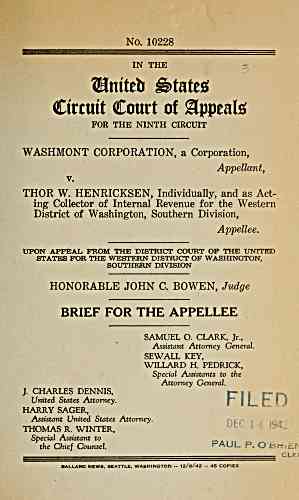 No. 10228
IN THE
WLnittb States
Ctrcutt Court of Appeals
FOR THE NINTH CIRCUIT
WASHMONT CORPORATION, a Corporation,
Appellant,
THOR W. HENRICKSEN, Individually, and as Act-
ing Collector of Internal Revenue for the Western
District of Washington, Southern Division,
Appellee.
UPON APPEAL FROM THE DISTRICT COURT OF THE UNITED
STATES FOR THE WESTERN DISTRICT OF WASHINGTON,
SOUTHERN DIVISION
HONORABLE JOHN C. BOWEN, Judge
BRIEF FOR THE APPELLEE
CHARLES DENNIS,
SAMUEL O. CLARK, Jr.,
Assistant Attorney General.
SEWALL KEY,
WILLARD H. PEDRICK,
Special Assistants to the
Attorney General.
United States Attorney.
HARRY SAGER,
Assistant United States Attorney.
THOMAS R. WINTER,
Special Assistant to
the Chief Counsel PAUL P. O f
^^^^^^^^^^^^^^^^^^^^^^^^^^^^^^^^^^^= CLE I
BALLARD NEWS, SEATTLE, WASHINGTON - 12/8/42 -- 45 COPIES
---
archive.org Volume Name: govuscourtsca9briefs2327
Volume: http://archive.org/stream/govuscourtsca9briefs2327
Document Link: http://archive.org/stream/govuscourtsca9briefs2327#page/n134/mode/1up
Top Keywords (auto-generated):
stock, taxpayer, debentures, holding, 2d, interest, corporation, debenture, commissioner, revenue, personal, owned, section, tax, district
Top Key Phrases (auto-generated):
personal holding, section 354, tax payer, preferred stock, acquire stock, western district, washington southern, section 351, pacific southwest, capital stock, taxpayer corporation, stock owned, sonal holding, proctor shop, internal revenue
Document Status: UGLY