v2327-401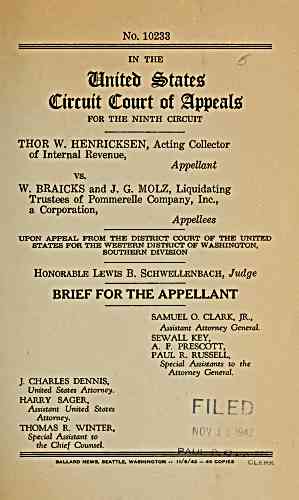 No. 10233
IN THE
Umteb States
Ctrcutt Court ot Appeals:
FOR THE NINTH CIRCUIT
THOR W. HENRICKSEN, Acting Collector
of Internal Revenue,
Appellant
vs.
BRAICKS and J. G. MOLZ, Liquidating
Trustees of Pommerelle Company, Inc.,
a Corporation,
Appellees
UPON APPEAL FROM THE DISTRICT COURT OF THE UNITED
STATES FOR THE WESTERN DISTRICT OF WASHINGTON,
SOUTHERN DIVISION
Honorable Lewis B. Schwellenbach, Judge
BRIEF FOR THE APPELLANT
CHARLES DENNIS,
United States Attorney.
HARRY SAGER,
Assistant United States
Attorney.
THOMAS R. WINTER,
Special Assistant to
the Chief Counsel.
SAMUEL O. CLARK, JR.,
Assistant Attorney General.
SEWALL KEY,
PRESCOTT,
PAUL R. RUSSELL,
Special Assistants to the
Attorney General.
FILE
PAMi i =
BALLARD NEWS, SEATTLE, WASHINGTON -- n/o/42 -- 45 COPIES GLH.KK.
---
archive.org Volume Name: govuscourtsca9briefs2327
Volume: http://archive.org/stream/govuscourtsca9briefs2327
Document Link: http://archive.org/stream/govuscourtsca9briefs2327#page/n400/mode/1up
Top Keywords (auto-generated):
corporation, stockholders, assets, trustees, liquidating, stock, paid, 2d, distribution, credit, dividends, commissioner, 1937, pommerelle, income
Top Key Phrases (auto-generated):
liquidating trustees, dividends paid, paid credit, profits taxes, excess profits, stock holders, internal revenue, net income, taxpayer corporation, special assistant, individual stock, balance sheet, adjusted net, acting collector, winter special
Document Status: UGLY