v2327-439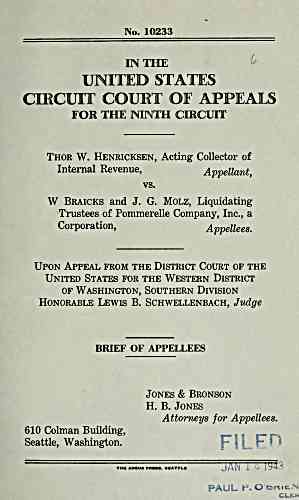 No. 10233
IN THE
UNITED STATES
CIRCUIT COUMT OF APPEALS
FOE THE NINTH CIRCUIT
Thor W. Henricksen, Acting Collector of
Internal Revenue, Appellant,
vs.
W Braicks and J. G. Molz, Liquidating
Trustees of Pommerelle Company, Inc., a
Corporation, Appellees.
Upon Appeal from the District Court of the
United States for the Western District
of Washington, Southern Division
Honorable Lewis B. Schwellenbach, Judge
BRIEF OF APPELLEES
Jones & Bronson
Jones
Attorneys for Appellees.
610 Colman Building,
Seattle, Washington.
THE AROUS PRIII, BATTLE
~
PAUL P.O'tomcxN
CL.E.H
---
archive.org Volume Name: govuscourtsca9briefs2327
Volume: http://archive.org/stream/govuscourtsca9briefs2327
Document Link: http://archive.org/stream/govuscourtsca9briefs2327#page/n438/mode/1up
Top Keywords (auto-generated):
stock, corporation, stockholders, liquidation, assets, property, distribution, credit, trustees, 27, exchange, 112, transfer, tax, solely
Top Key Phrases (auto-generated):
tax free, physical assets, undivided interests, liquidating trustees, stock holders, preferred stock, individual stockholders, dividend credit, van camp, regulations 94, internal revenue, exchanged solely, credit alliance, corporation solely, complete liquidation
Document Status: UGLY