v2327-713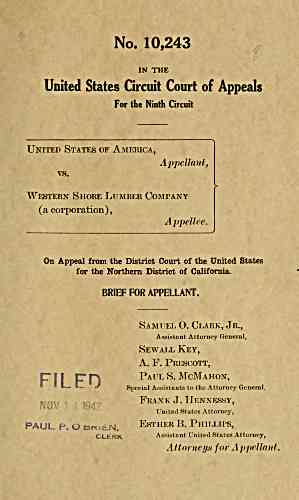 No. 10,243
IN THE
United States Circuit Court of Appeals
For the Ninth Circuit
United States of America,
Appellant,
vs.
Western - Shore Lumber Company
(a corporation),
Appellee.
On Appeal from the District Court of the United States
for the Northern District of California.
BRIEF FOR APPELLANT.
Samuel O. Clark, Jr.,
Assistant Attorney General,
Sewall Key,
Prescott,
Paul S. McMahon,
Special Assistants to the Attorney General,
Frank J. Hennessy,
United States Attorney,
PAUL P. O fcSrc,N, ESTHER B. PHILLirS,
CLF.RK Assistant Tnited States Attorney,
Attorneys for Appellant.
FILED
NO
---
archive.org Volume Name: govuscourtsca9briefs2327
Volume: http://archive.org/stream/govuscourtsca9briefs2327
Document Link: http://archive.org/stream/govuscourtsca9briefs2327#page/n712/mode/1up
Top Keywords (auto-generated):
taxpayer, business, corporation, activities, tax, taxable, timber, property, holding, properties, organized, stumpage, lumber, liquidation, contracts
Top Key Phrases (auto-generated):
capital stock, stumpage contracts, santa cruz, realty corp., stock tax, cruz lumber, tax payer, lumber business, article 43, taxable periods, busi ness, annapolis realty, washington baltimore, looking toward, emery bird
Document Status: UGLY