v2327-869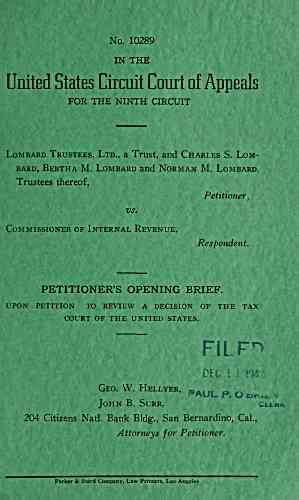 No. 10289
IN THE
United States Circuit Court of Appeals
FOR THE NINTH CIRCUIT
Lombard Trustees, Ltd., a Trust, and Charles S. Lom-
bard, Bertha M. Lombard and Norman M. Lombard,
Trustees thereof,
Petitioner,
vs.
Commissioner of Internal Revenue,
Respondent.
PETITIONER'S OPENING BRIEF.
UPON PETITION TO REVIEW A DECISION OF THE TAX
COURT OF THE UNITED STATES.
FiLFi
Geo. W. Hellyer, p/UJ _ p Q fe
John B. Surr, cllkk
204 Citizens Natl. Bank Bldg., San Bernardino, Cal.,
Attorneys for Petitioner.
Parker & Baird Company, Law Printers, Los AngeU-
---
archive.org Volume Name: govuscourtsca9briefs2327
Volume: http://archive.org/stream/govuscourtsca9briefs2327
Document Link: http://archive.org/stream/govuscourtsca9briefs2327#page/n868/mode/1up
Top Keywords (auto-generated):
trust, lombard, income, dr, 1937, trustees, association, march, declaration, grantor, property, petitioner, interest, trusts, tax
Top Key Phrases (auto-generated):
trust declaration, beneficial interest, sole beneficiary, trust property, trustees ltd., lom bard, internal revenue, expectancy fractions, net income, gross income, family corporation, association taxable, trust form, substantial adverse, property trustees
Document Status: UGLY