v2328-373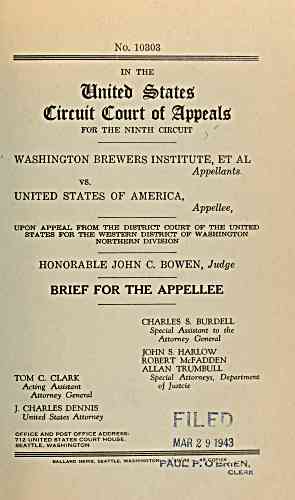 No. 10303
IN THE
Unitetr States
Circuit Court of Appeal*
FOR THE NINTH CIRCUIT
WASHINGTON BREWERS INSTITUTE, ET AL
Appellants.
vs.
UNITED STATES OF AMERICA,
Appellee,
UPON APPEAL FROM THE DISTRICT COURT OF THE UNITED
STATES FOR THE WESTERN DISTRICT OF WASHINGTON
NORTHERN DIVISION
HONORABLE JOHN C. BOWEN, Judge
BRIEF FOR THE APPELLEE
CHARLES S. BURDELL
Special Assistant to the
Attorney General
JOHN S. HARLOW
ROBERT McFADDEN
ALLAN TRUMBULL
TOM C. CLARK Special Attorneys, Department
Acting Assistant of Justcie
Attorney General
CHARLES DENNIS
United States Attorney
OFFICE AND POST OFFICE ADDRESS:
712 UNITED STATES COURT HOUSE,
SEATTLE. WASHINGTON
FILF
MAR 2 9 1943
BALLARD NEWS, SEATTLE, WAS
H,NGTON pX0t 3 pr5PESieN,
CLERK
---
archive.org Volume Name: govuscourtsca9briefs2328
Volume: http://archive.org/stream/govuscourtsca9briefs2328
Document Link: http://archive.org/stream/govuscourtsca9briefs2328#page/n372/mode/1up
Top Keywords (auto-generated):
liquor, commerce, laws, indictment, amendment, beer, interstate, federal, prices, liquors, intoxicating, clause, sherman, violation, area
Top Key Phrases (auto-generated):
interstate commerce, commerce clause, intoxicating liquors, webb kenyon, coast area, pacific coast, 49 stat., federal government, intoxicating liquor, liquor control, interstate commerce., federal alcohol, commerce clause., alcohol administration, 76 cong.
Document Status: UGLY