v2328-689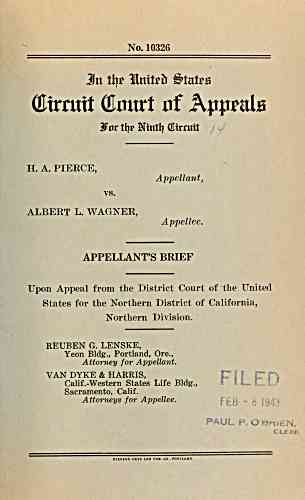 No. 10326
Jn % Uttttffc Stales
(tttrrmf Qlnurt of Appeals
3fartt?jNmil?(Etmrit
PIERCE,
vs.
ALBERT L. WAGNER,
Appellee.
APPELLANT'S BRIEF
Upon Appeal from the District Court of the United
States for the Northern District of California,
Northern Division.
REUBEN G. LENSKE,
Yeon Bldg., Portland, Ore.,
Attorney for Appellant.
VAN DYKE & HARRIS,
Calif.-Western States Life Bldg.,
Sacramento, Calif.
Attorneys for Appellee.
PAUL P. O'l
CL.F RK
STEVENS-NESS LAW PUB. CO.. PORTLAND
---
archive.org Volume Name: govuscourtsca9briefs2328
Volume: http://archive.org/stream/govuscourtsca9briefs2328
Document Link: http://archive.org/stream/govuscourtsca9briefs2328#page/n688/mode/1up
Top Keywords (auto-generated):
district, transcript, thereupon, rules, dismiss, procedure, pleading, plaint, pierce, northern, jurisdiction, forth, definite, civil, allowed
Top Key Phrases (auto-generated):
statutory provisions, sets forth, northern district, defi nite, civil procedure., civil procedure, california northern, yeon bldg., xi commencing, van dyke, uttttffc stales, unnecessary authorities, un equivocal., tttrrmf qlnurt, transcript .
Document Status: UGLY