v2328-705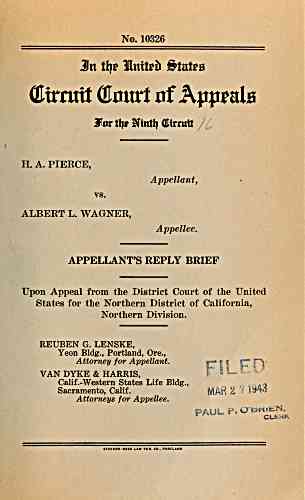 No. 10326
(tttrnttt (Enuri of Appeals
3fartfj*Nttttfj&trnrit
PIERCE,
Appellant,
vs.
ALBERT L. WAGNER,
Appellee.
APPELLANT'S REPLY BRIEF
Upon Appeal from the District Court of the United
States for the Northern District of California,
Northern Division.
REUBEN G. LENSKE,
Yeon Bldg., Portland, Ore.,
Attorney for Appellant IT* 1 1 C" FY
VAN DYKE & HARRIS,
Calif. -Western States Life Bldg., -.-
Sacramento, Calif. MAR % t 'l*w
Attorneys for Appellee.
PAUL F.O&rtM*
STEVENS-NESS LAW PUB. CO.. PORTLAND
---
archive.org Volume Name: govuscourtsca9briefs2328
Volume: http://archive.org/stream/govuscourtsca9briefs2328
Document Link: http://archive.org/stream/govuscourtsca9briefs2328#page/n704/mode/1up
Top Keywords (auto-generated):
dysart, stella, property, creditors, lien, bankruptcy, bankrupt, mexico, county, petition, petitioning, district, von, segerlund, hugo
Top Key Phrases (auto-generated):
stella dysart, petitioning creditors, von segerlund, hugo von, mckinley county, identification continued, personal property, mutual land, special instance, special master, los angeles, judicial district, dry ice, kee brown, florence kee
Document Status: UGLY