v2330a-5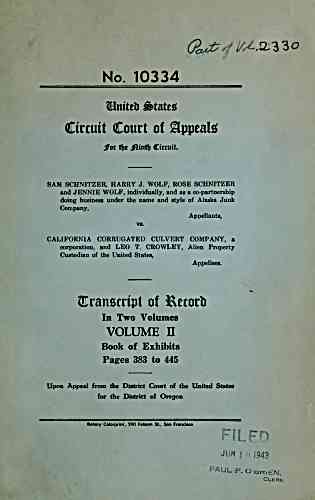 No. 10334
?Hntteli Stated
Circuit Court of ^peals
Jfor ti)e itnti) Circuit.
SAM SCHNITZER, HARRY J. WOLF, ROSE SCHNITZER
and JENNIE WOLF, individually, and as a co-partnership
doing business under the name and style of Alaska Junk
Company,
Appellants,
vs.
CALIFORNIA CORRUGATED CULVERT COMPANY, a
corporation, and LEO T. CROWLEY, Alien Property
Custodian of the United States,
Appellees.
2Lranscript of Eecorb
In Two Volumes
VOLUME n
Book of Exhibits
Pages 383 to 445
Upon Appeal from the District Conrt of the United States
for the District of Oregon
Rotary Colorprint, 590 Folsom St., Son Francisco
JUN I 1943
PAUL P. O tsht.tN.
CLERK
---
archive.org Volume Name: govuscourtsca9briefs2330a
Volume: http://archive.org/stream/govuscourtsca9briefs2330a
Document Link: http://archive.org/stream/govuscourtsca9briefs2330a#page/n4/mode/1up
Top Keywords (auto-generated):
pipe, member, coupling, end, members, joint, packing, sleeve, ring, flexible, section, adapted, contact, fig, valve
Top Key Phrases (auto-generated):
outer member, interfitting members, comprising interfitting, contact surfaces, cup rubber, inner member, pipe coupling, flexible pipe, coupling comprising, packing ring, male member, flexible coupling, sealing engagement, lower end, coupling sleeve
Document Status: UGLY