v2375-429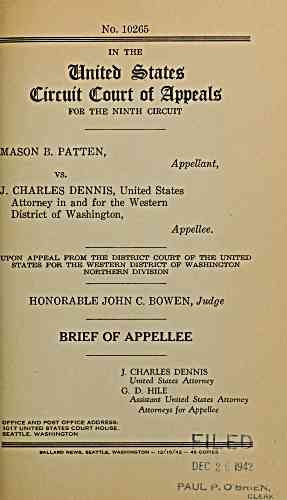 No. 10265
IN THE
mteb States
Ctrcutt Court of appeal*
FOR THE NINTH CIRCUIT
MASON B. PATTEN,
Appellant,
vs.
CHARLES DENNIS, United States
Attorney in and for the Western
District of Washington,
Appellee.
UPON APPEAL FROM THE DISTRICT COURT OF THE UNITED
STATES FOR THE WESTERN DISTRICT OF WASHINGTON
NORTHERN DIVISION
HONORABLE JOHN C. BOWEN, Judge
BRIEF OF APPELLEE
CHARLES DENNIS
United States Attorney
HILE
Assistant United States Attorney
Attorneys for Appellee
OFFICE AND POST OFFICE ADDRESS:
1017 UNITED STATES COURT HOUSE.
SEATTLE. WASHINGTON
H' P"
BALLARD NEWS. SEATTLE, WASHINGTON - 12/l5/42 -- 45 COPIES
DEI 1942
PAUL P.O'ttiN,
CLERK
---
archive.org Volume Name: govuscourtsca9briefs2375
Volume: http://archive.org/stream/govuscourtsca9briefs2375
Document Link: http://archive.org/stream/govuscourtsca9briefs2375#page/n428/mode/1up
Top Keywords (auto-generated):
district, washington, petition, yard, patten, western, dennis, charles, navy, smith, larsen, grand, bogard, writing, sound
Top Key Phrases (auto-generated):
western district, charles dennis, navy yard, washington northern, sound navy, puget sound, points relied, honorable john, hile assistant, yard puget, seattle washington, post office, office address, ballard news., 45 copies
Document Status: UGLY