v2382-5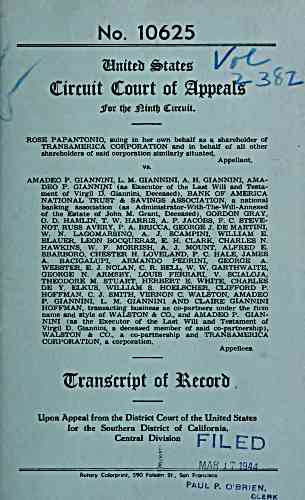 No. 10625
mnittt ^tateg ^C^
Circuit Court of ^peafe" ^ ^ ^
Jfor tt)e iintfj Circuit.
ROSE PAP ANTONIO, suing in her own behalf as a shareholder of
TRANSAMERICA CORPORATION and in behalf of all other
shareholders of said corporation similarly situated,
Appellant,
vs.
AMADEO P. GIANNINI, L. M. GIANNINI, A. H. GIANNINI, AMA-
DEO P. GIANNINI (as Executor of the Last Will and Testa-
ment of Virgil D. Giannini, Deceased), BANK OF AMERICA
NATIONAL TRUST & SAVINGS ASSOCIATION, a national
banking association (as Administrator-With-The- Will- Annexed
of the Estate of John M. Grant, Deceased), GORDON GRAY,
HAMLIN, T. W. HARRIS, A. P. JACOBS, F. C. STEVE-
NOT, RUSS AVERY, P. A. BRICCA, GEORGE J. DE MARTINI,
LAGOMARSINO, A. J. SCAMPINI, WILLIAM E.
BLAUER, LEON BOCQUERAZ, E. H. CLARK, CHARLES N.
HAWKINS, W. F. MORRISH, A. J. MOUNT, ALFRED E.
SBARBORO, CHESTER H. LOVELAND, P. C. HALE, JAMES
BACIGALUPI, ARMANDO PEDRINI, GEORGE A.
WEBSTER, E. J. NOLAN, C. R. BELL, W. W. GARTHWAITE,
GEORGE N. ARMSBY, LOUIS FERRARI, V. SCIALOJA,
THEODORE M. STUART, HERBERT E. WHITE, CHARLES
DE Y. ELKUS, WILLIAM S. HOELSCHER, CLIFFORD P.
HOFFMAN, C. J. SMITH, VERNON C. WALSTON, AMADEO
GIANNINI, L. M. GIANNINI AND CLAIRE GIANNINI
HOFFMAN, transacting business as co-partners under the firm
name and style of WALSTON & CO., and AMADEO P. GIAN-
NINI (as the Executor of the Last Will and Testament of
Virgil D. Giannini, a deceased member of said co-partnership),
WALSTON & CO., a co-partnership and TRANSAMERICA
CORPORATION, a corporation.
Appellees.
Crangtript of ^ttovh
Upon Appeal from the District Court of the United States
for the Southern District of California,
Central Division F" CT f^
I MAR j 7 1Q4 4
Rotary Colorprint, 590 Folsdnn St., Son Francisco
Paul p. o'briem,
OLERK
---
archive.org Volume Name: govuscourtsca9briefs2382
Volume: http://archive.org/stream/govuscourtsca9briefs2382
Document Link: http://archive.org/stream/govuscourtsca9briefs2382#page/n4/mode/1up
Top Keywords (auto-generated):
giannini, corporation, transamerica, amadeo, paragraph, directors, stock, bank, lines, papantonio, rose, corporate, subsidiaries, walston, forth
Top Key Phrases (auto-generated):
transamerica corporation, rose papantonio, subsidiaries departments, capital stock, bancitaly corporation, corporate subsidiaries, los angeles, gian nini, cor poration, conclusion appearing, paragraph xxvii, transamerica corpora, para graph, russ avery, net profits
Document Status: UGLY