v2389-5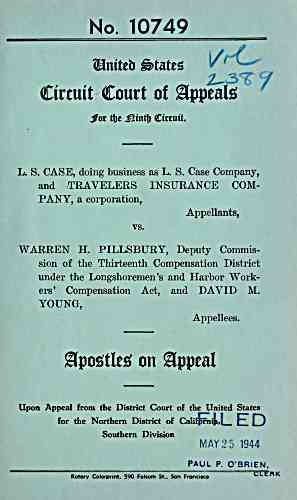 No. 10749
Winitt^ States i/^ ^
Circuit Court of appeals? ^
Jfor tlje iSintJi Circuit.
CASE, doing business as L. S. Case Company,
and TRAVELERS INSURANCE COM-
PANY, a corporation.
Appellants,
vs.
WARREN H. PILLSBURY, Deputy Commis-
sion of the Thirteenth Compensation District
under the Longshoremen's and Harbor Work-
ers' Compensation Act, and DAVID M.
YOUNG,
Appellees.
SpostlesJ on Appeal
Upon Appeal from the District Court of the United States
for the Northern District of Califfernik* , H J
Southern Division
MAY 2 5 1944
PAUL P. O'BRIEN.
Rotary Colorprint, 590 Folsom St., Son Francisco CLEnK
---
archive.org Volume Name: govuscourtsca9briefs2389
Volume: http://archive.org/stream/govuscourtsca9briefs2389
Document Link: http://archive.org/stream/govuscourtsca9briefs2389#page/n4/mode/1up
Top Keywords (auto-generated):
compensation, district, pillsbury, eye, warren, award, deputy, claimant, commissioner, young, libelants, 1944, respondent, libel, california
Top Key Phrases (auto-generated):
deputy commissioner, san francisco, travelers insurance, serious facial, pillsbury deputy, harbor workers, compensation district, workers compensation, head disfigurement, 13th compensation, employees compensation, white spot, right eye, northern district, section 908
Document Status: UGLY