v2389-81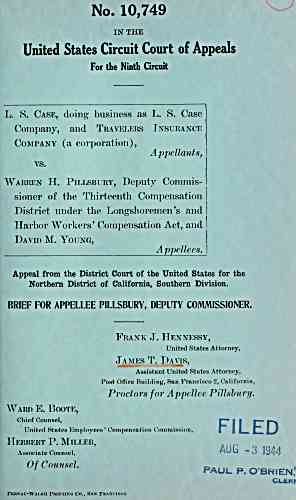 No. 10,749
IN THE
United States Circuit Court of Appeals
For the Ninth Circuit
Case, doing- business as L. S. Case
Company, and Travelers Insurance
Company (a corporation),
Appellants,
vs.
Warren H. Pillsbury, Deputy Commis-
sioner of the Thirteenth Compensation
District under the Longshoremen's and
Harbor Workers' Compensation Act, and
Davu) M. Young,
A ppellees.
Appeal from the District Court of the United States for the
Northern District of California, Southern Division.
BRIEF FOR APPELLEE PILLSBURY, DEPUTY COMMISSIONER.
Frank J. Hennessy,
United States Attorney,
James T. Davis,
Assistant United States Attorney,
Post Office Building, San Francisco 2, California,
Proctors for Appellee Pillsl)i(rj/.
Ward E. Boote,
Chief Counsel, p^ i p^
United States Employees' Compensation Commission, J I j J
Herbert P. Miller,
Associate Counsel, ^Ub ^ l 19-^/f
Of Counsel, Dy..- ^ i
^ PAUL. P. O'BRIEN'
CLERt
I'KKNAU-WAI.SU riUNTIXU CO., SAN FUANl'ISrO
---
archive.org Volume Name: govuscourtsca9briefs2389
Volume: http://archive.org/stream/govuscourtsca9briefs2389
Document Link: http://archive.org/stream/govuscourtsca9briefs2389#page/n80/mode/1up
Top Keywords (auto-generated):
2d, disfigurement, deputy, compensation, award, loss, commissioner, york, eye, app, addition, member, cca, facial, atl
Top Key Phrases (auto-generated):
deputy commissioner, norton deputy, monahan deputy, marshall deputy, head disfigurement, travelers insurance, serious facial, deputy commis, commis sioner, 596 1919, 135 pa., workers compensation, liability assurance, harbor workers, glass eye
Document Status: UGLY