v2390-97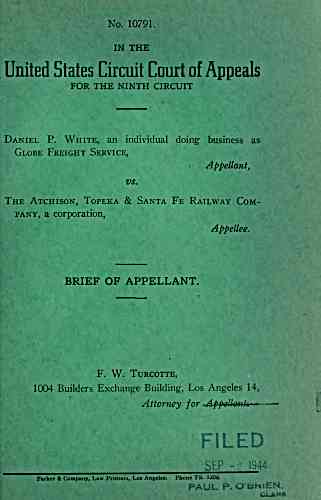 No. 10791.
IN THE
United States Circuit Court of Appeals
FOR THE NINTH CIRCUIT
Daniel P. White, an individual doing business as
Globe Freight Service,
Appellant,
vs.
The Atchison, Topeka & Santa Fe Railway Com-
pany, a corporation,
Appellee.
BRIEF OF APPELLANT.
Turcotte,
1004 Builders Exchange Building, Los Angeles 14,
Attorney for -Ap pel la nt ** -
FILED
SEi 344
Parker & Company, Law Printers, Los Angeles. Phone TR- 5206.
PAUL P.ObKiEN,
Ci-J
---
archive.org Volume Name: govuscourtsca9briefs2390
Volume: http://archive.org/stream/govuscourtsca9briefs2390
Document Link: http://archive.org/stream/govuscourtsca9briefs2390#page/n96/mode/1up
Top Keywords (auto-generated):
rates, freight, forwarders, section, interstate, carriers, commerce, motor, 419, common, charges, carrier, iv, congress, vehicle
Top Key Phrases (auto-generated):
interstate commerce, freight forwarders, section 419, common carriers, motor vehicle, joint rates, title 49, code title, rail carriers, motor carrier, motor carriers, freight forwarder, 49 chapter, foot cars, 40 foot
Document Status: UGLY