v2407-1037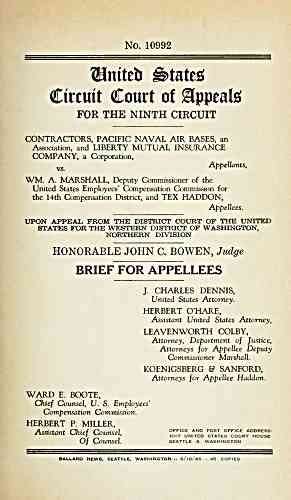 No. 10992
^initeb States
Circuit Court of Appeals
FOR THE NINTH CIRCUIT
CONTRACTORS, PACIFIC NAVAL AIR BASES, an
Association, and LIBERTY MUTUAL INSURANCE
COMPANY, a Corporation,
Appellants,
WM. A. MARSHALL, Deputy Commissioner of the
United States Employees' Compensation Commission for
the 14th Compensation District, and TEX HADDON,
Appellees.
UPON APPEAL. FROM THE DISTRICT COURT OF THE UNITED
STATES FOR THE WESTERN DISTRICT OF WASHINGTON,
NORTHERN DIVISION
HONORABLE JOHN C. BOWEN, Judge
BRIEF FOR APPELLEES
CHARLES DENNIS,
United States Attorney.
HERBERT O'HARE,
Assistant United States Attorney,
LEAVENWORTH COLBY,
Attorne3', Department of Justice,
Attorneys for Appellee Deputy
Commissioner Marshall.
KOENIGSBERG 6? SANFORD,
Attorneys for Appellee Haddon.
WARD E. BOOTE,
Chief Counsel, U. S. Employees
Compensation Commission.
HERBERT P. MILLER,
Assistant Chief Counsel,
Of Counsel.
OFFICE AND POST OFFICE ADDRESS:
1017 UNITED STATES COURT HOUSE
SEATTLE 4, WASHINGTON
BALLARD NEWS, SEATTLE, WASHINGTON -- 8, 18/45 - 45 COPIES
---
archive.org Volume Name: govuscourtsca9briefs2407
Volume: http://archive.org/stream/govuscourtsca9briefs2407
Document Link: http://archive.org/stream/govuscourtsca9briefs2407#page/n1036/mode/1up
Top Keywords (auto-generated):
deputy, commissioner, 2d, injury, cca, haddon, accident, app, 1943, medical, work, insurance, compensation, disability, support
Top Key Phrases (auto-generated):
deputy commissioner, norton deputy, liberty mutual, deputy commis, commis sioner, marshall deputy, mutual insurance, commissioner 56, uty commissioner, right shoulder, nichols adjustment, monahan deputy, light work, june 1942, dep uty
Document Status: UGLY