v2407-1081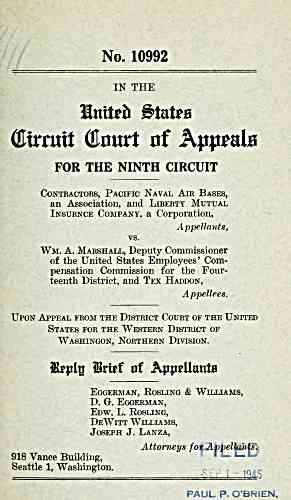 No. 10992
IN THE
ffltrrutt Qlnttrt of KppmlB
FOR THE NINTH CIRCUIT
Contractors, Pacific Naval Air Bases,
an Association, and Liberty Mutual
Insurnce Company, a Corporation,
Appellants,
vs.
Wm. a. Marshall, Deputy Commissioner
of the United States Employees' Com-
pensation Conmiission for the Four-
teenth District, and Tex Haddon,
Appellees.
Upon Appeal from the District Court of the United
States for the Western District of
Washingon, Northern Division.
Eggerman, Rosling & Williams,
Eggerman,
Edw. L. Rosling,
DeWitt Williams,
Joseph J. Lanza,
Attorneys foiJlbpellm^
918 Vance Building, ' 3. - -^
Seattle 1, Washington. ., ^ ,
PAUL P. O'BRIEN,
---
archive.org Volume Name: govuscourtsca9briefs2407
Volume: http://archive.org/stream/govuscourtsca9briefs2407
Document Link: http://archive.org/stream/govuscourtsca9briefs2407#page/n1080/mode/1up
Top Keywords (auto-generated):
2d, injury, ins, medical, employee, work, pa, award, norton, district, disability, williams, claimant, atl, support
Top Key Phrases (auto-generated):
deputy commissioner, liberty mutual, fellow employee, williams joseph, western district, washingon northern, tex haddon, teenth district, rosling williams, rosling dewitt, pacific naval, norton 56, norton 54, naval air, mutual insurnce
Document Status: UGLY