v2418-315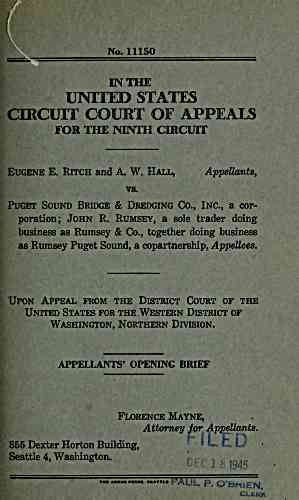 &y
No. 11150
IN THE
UNITED STATES
CmCUIT COUBT OF APPEALS
FOR THE NINTH CIRCUIT
Eugene E. Ritch and A. W. Hall, AppellantSy
vs.
PuGET Sound Bridge & Dredging Co., Inc., a cor-
poration; John R. Rumsey, a sole trader doing
business as Rumsey & Co., together doing business
as Rumsey Puget Sound, a copartnership. Appellees.
Upon Appeal from the District Court of the
United States for the Western District of
Washington, Northern Division.
APPELLANTS' OPENING BRIEF
Florence Mayne,
Attorney for Appellants.
855 Dexter Horton Building, L t O
Seattle 4, Washington.
W
PAUL. P. O'BNiEN,
CIJB.RK.
---
archive.org Volume Name: govuscourtsca9briefs2418
Volume: http://archive.org/stream/govuscourtsca9briefs2418
Document Link: http://archive.org/stream/govuscourtsca9briefs2418#page/n314/mode/1up
Top Keywords (auto-generated):
commerce, engaged, interstate, goods, 2d, supp, labor, employees, walling, work, production, cca, 1941, standards, materials
Top Key Phrases (auto-generated):
interstate commerce, labor standards, fair labor, puget sound, navy yard, interstate commerce., sound navy, american stores, 1944 140, 1941 39, interstate shipments, marine equipment, jacksonville paper, bona fide, 332 317
Document Status: UGLY