v2422-5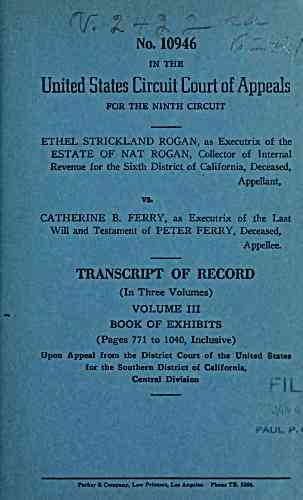 No. 10946
IN THE
United States Circuit Court of Appeals
FOR THE NINTH CIRCUIT
ETHEL STRICKLAND ROGAN, as Executrix of the
ESTATE OF NAT ROGAN, Collector of Internal
Revenue for the Sixth District of California, Deceased,
Appellant,
vs.
CATHERINE B. FERRY, as Executrix of the Last
Will and Testament of PETER FERRY, Deceased,
Appellee.
TRANSCRIPT OF RECORD
(In Three Volumes)
VOLUME III
BOOK OF EXHIBITS
(Pages 771 to 1040, Inclusive)
Upon Appeal from the District Court of the United States
for the Southern District of California,
Central Division
L
AUL. P.
Parker ft Company, Law Printar*, Lsa Anselaa. Plioae TK. 5306.
---
archive.org Volume Name: govuscourtsca9briefs2422
Volume: http://archive.org/stream/govuscourtsca9briefs2422
Document Link: http://archive.org/stream/govuscourtsca9briefs2422#page/n4/mode/1up
Top Keywords (auto-generated):
ferry, estate, trust, tax, peter, decedent, interest, income, california, catherine, property, item, trusts, wife, los
Top Key Phrases (auto-generated):
peter ferry, strickland rogan, ethel strickland, los angeles, internal revenue, gross estate, estate tax, income tax, revenue agent, accrued interest, trust deed, angeles california., normal tax, ferry schedule, net income
Document Status: UGLY