v2458-207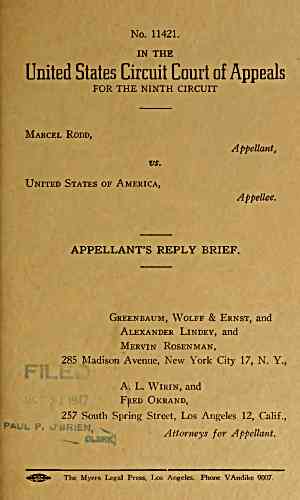 No. 11421.
IN THE
United States Circuit Court of Appeals
FOR THE NINTH CIRCUIT
Marcel Rodd,
vs.
United States of America,
Appellant,
Appellee.
APPELLANT'S REPLY BRIEF.
-i
Greenbaum, Wolff & Ernst, and
Alexander Lindey, and
Mervin Rosenman,
285 Madison Avenue, New York City 17, N. Y.,
WiRiN, and
FiED Okrand,
257 South Spring Street, Los Angeles 12, Calif.,
Attorneys for Appellant.
The Mj'ers Legal Press, Los Angeles. Phone VAndike 9007.
---
archive.org Volume Name: govuscourtsca9briefs2458
Volume: http://archive.org/stream/govuscourtsca9briefs2458
Document Link: http://archive.org/stream/govuscourtsca9briefs2458#page/n206/mode/1up
Top Keywords (auto-generated):
count, prosecution, 2d, crime, conviction, indictment, book, counts, sentence, carrier, madam, house, doubt, obscenity, criminal
Top Key Phrases (auto-generated):
house madam, anti social, social sexual, ulysses 72, sexual behavior, prosecution argues, prose cution, post office, fifth amendment, fatally defective, defend ant, defective indictment, criminal conviction, 3rd ed., 2d 931
Document Status: UGLY