v2458-239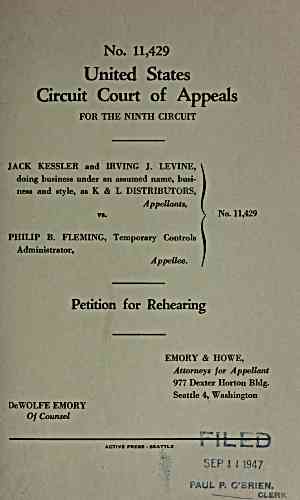 No. 11,429
United States
Circuit Court of Appeals
FOR THE NINTH CIRCUIT
JACK KESSLER and IRVING J. LEVINE,
doing business under an assumed name, busi-
ness and style, as K & L DISTRIBUTORS,
Appellants,
V8. No. 11,429
PHILIP B. FLEMING, Temporary Controls
Administrator,
Appellee.
Petition for Rehearing
EMORY & HOWE,
Attorneys for Appellant
977 Dexter Horton Bldg.
Seattle 4, Washington
DeWOLFE EMORY
Of Counsel
ACTIVE PRESS - SEATTLE
FiLLD
SEP 1 I 1947.
PAUL P- CBRIEN,
CLERf
---
archive.org Volume Name: govuscourtsca9briefs2458
Volume: http://archive.org/stream/govuscourtsca9briefs2458
Document Link: http://archive.org/stream/govuscourtsca9briefs2458#page/n238/mode/1up
Top Keywords (auto-generated):
goods, section, sales, delivery, title, petition, lading, contract, emory, buyer, washington, uniform, unascertained, seattle, carrier
Top Key Phrases (auto-generated):
uniform sales, physical transfer, emory howe, dewolfe emory, washington dewolfe, unascertained goods, temporary controls, tained goods, rehearing emory, jack kessler, intended title, horton bldg., goods passed, future goods, fleming temporary
Document Status: UGLY