v2485-661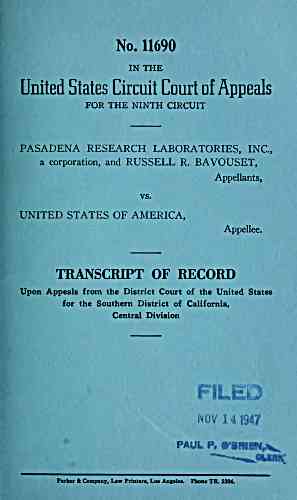 No. 11690
IN THE
United States Circuit Court of Appeals
FOR THE NINTH CIRCUIT
PASADENA RESEARCH LABORATORIES, INC.,
a corporation, and RUSSELL R. BAVOUSET,
Appellants,
vs.
UNITED STATES OF AMERICA,
Appellee.
TRANSCRIPT OF RECORD
Upon Appeals from the District Court of the United States
for the Southern District of California,
Central Division
NOV 141947
PAUL P, rBHtSIMw
Parker & Company, Law Printers, Loa Angeles. Phone TR. 5206.
---
archive.org Volume Name: govuscourtsca9briefs2485
Volume: http://archive.org/stream/govuscourtsca9briefs2485
Document Link: http://archive.org/stream/govuscourtsca9briefs2485#page/n660/mode/1up
Top Keywords (auto-generated):
solution, product, pasadena, research, laboratories, neukom, inc, bottle, pituitary, thyroid, stick, label, right, test, thiamine
Top Key Phrases (auto-generated):
pasadena research, research laboratories, laboratories inc., posterior pituitary, thiamine hydrochloride, cubic centimeter, thyroid substance, suprarenal cortex, standard solution, interstate commerce, drug administration, undissolved particles, federal food, los angeles, sterile solution
Document Status: UGLY