v2535-339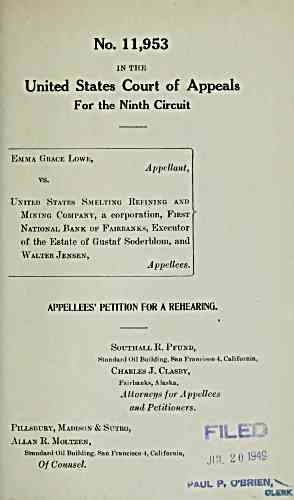 No. 11,953
IN THE
United States Court of Appeals
For the Ninth Circuit
Emma Grace Lowe,
vs.
Appellant,
United States Smelting Refining and
Mining Company, a corporation, First
National Bank of Fairbanks, Executor
of the Estate of Gustaf Soderblom, and
Walter Jensen,
Appellees.
APPELLEES' PETITION FOR A REHEARING.
Southall R. Pfund,
standard Oil Building, San Francisco 4, California,
Charles J. Clasby,
Fairbanks, Alaska,
Attorneys for Appellees
and Petitioners.
FILE
PiLLSBURY, Madison & Sutro,
Allan R. Moltzen,
Standard Oil Building, San Francisco -1, California, ^) ( iQdQ
Of Counsel. ^
PAUL p. O'BRIEN,
OLSRK
---
archive.org Volume Name: govuscourtsca9briefs2535
Volume: http://archive.org/stream/govuscourtsca9briefs2535
Document Link: http://archive.org/stream/govuscourtsca9briefs2535#page/n338/mode/1up
Top Keywords (auto-generated):
burden, statute, pac, mining, rehearing, min, laws, labor, provisions, nev, claims, supreme, san, petitioners, petition
Top Key Phrases (auto-generated):
mining claims, san francisco, rights incident, mineral locations, claims mineral, annual labor, walter jensen, sutro allan, standard oil, smelting refining, pillsbury madison, oil building, national bank, madison sutro, justice min.,
Document Status: UGLY