v2536-541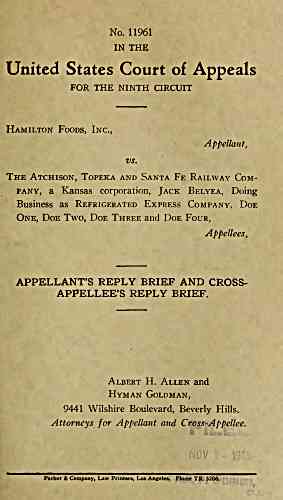 No. 11961
IN THE
United States Court of Appeals
FOR THE NINTH CIRCUIT
Hamilton Foods, Inc.,
Appellant j
vs.
The Atchison, Topeka and Santa Fe Railway Com-
pany, a Kansas corporation, Jack Belyea, Doing
Business as Refrigerated Express Company, Doe
One, Doe Two, Doe Three and Doe Four,
Appellees,
APPELLANT'S REPLY BRIEF AND CROSS-
APPELLEE'S REPLY BRIEF.
Albert H. Allen and
Hyman Goldman,
9441 Wilshire Boulevard, Beverly Hills.
Attorneys for Appellant and Cross- Appellee.
Parker & Company, Law Printers, Los Angeles. Phone TR. 5206.
---
archive.org Volume Name: govuscourtsca9briefs2536
Volume: http://archive.org/stream/govuscourtsca9briefs2536
Document Link: http://archive.org/stream/govuscourtsca9briefs2536#page/n540/mode/1up
Top Keywords (auto-generated):
cross, car, belyea, los, angeles, icing, ice, bunkers, homan, finding, findings, 75, san, regular, negligence
Top Key Phrases (auto-generated):
los angeles, regular icing, icing station, shrimp creole, san francisco, icing station., car arrived, los angeles., san bernardino, protective tariff, cold storage, human consumption, sets forth, san francisco., rail carrier
Document Status: UGLY