v2536-575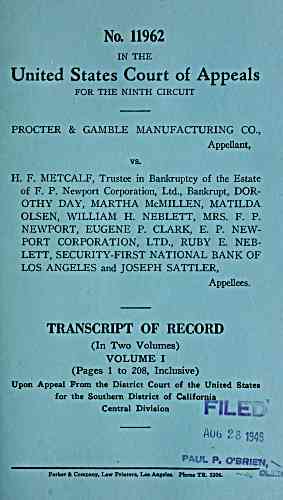 No. 11962
IN THE
United States Court of Appeals
FOR THE NINTH CIRCUIT
PROCTER & GAMBLE MANUFACTURING CO.,
Appellant,
vs.
METCALF, Trustee in Bankruptcy of the Estate
of F. P. Newport Corporation, Ltd., Bankrupt, DOR-
OTHY DAY, MARTHA McMILLEN, MATILDA
OLSEN, WILLIAM H. NEBLETT, MRS. F. P.
NEWPORT, EUGENE P. CLARK, E. P. NEW-
PORT CORPORATION, LTD., RUBY E. NEB-
LETT, SECURITY-FIRST NATIONAL BANK OF
LOS ANGELES and JOSEPH SATTLER,
Appellees.
TRANSCRIPT OF RECORD
(In Two Volumes)
VOLUME I
(Pages 1 to 208, Inclusive)
Upon Appeal From the District Court of the United States
for the Southern District of California
Central Division
AUG 2 8 1948
PAUL P. O'BRIEN.
Parker & Company, Law Printers, Los Angeles. Phone TR. 5206.
---
archive.org Volume Name: govuscourtsca9briefs2536
Volume: http://archive.org/stream/govuscourtsca9briefs2536
Document Link: http://archive.org/stream/govuscourtsca9briefs2536#page/n574/mode/1up
Top Keywords (auto-generated):
property, oil, trustee, gamble, referee, procter, manufacturing, los, angeles, lynch, estate, land, cahill, lease, bankruptcy
Top Key Phrases (auto-generated):
procter gamble, gamble manufacturing, los angeles, water front, joseph sattler, national bank, consolidated oil, universal consolidated, newport corporation, southern pacific, front property, corporation ltd., acre parcel, newport property, ford zone
Document Status: UGLY