v2563-345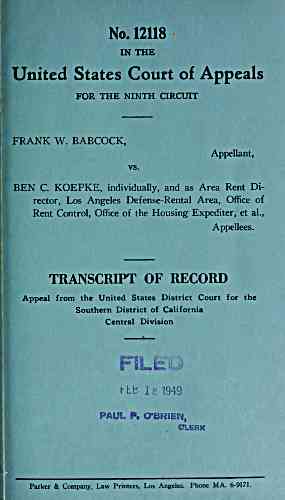 No. 12118
IN THE
United States Court of Appeals
FOR THE NINTH CIRCUIT
FRANK W. BABCOCK,
Appellant,
vs.
BEN G KOEPKE, individually, and as Area Rent Di-
rector, Los Angeles Defense-Rental Area, Office of
Rent Control, Office of the Housing Expediter, et al.,
Appellees.
TRANSCRIPT OF RECORD
Appeal from the United States District Court for the
Southern District of California
Central Division
FILE
F Lb 1 a (949
PAUL. f. O'BRIEN,
CLERK
Parker & Company, Law Printers, Los Angeles. Phone MA. 6-9171.
---
archive.org Volume Name: govuscourtsca9briefs2563
Volume: http://archive.org/stream/govuscourtsca9briefs2563
Document Link: http://archive.org/stream/govuscourtsca9briefs2563#page/n344/mode/1up
Top Keywords (auto-generated):
university, student, office, students, rent, 1948, housing, california, ben, koepke, los, frank, angeles, 1947, school
Top Key Phrases (auto-generated):
los angeles, housing expediter, southern california, angeles california, rent director, area rent, rental area, high school, graduate school, koepke ct, rent control, austin clapp, women students, area office, residence halls
Document Status: UGLY