v2563-771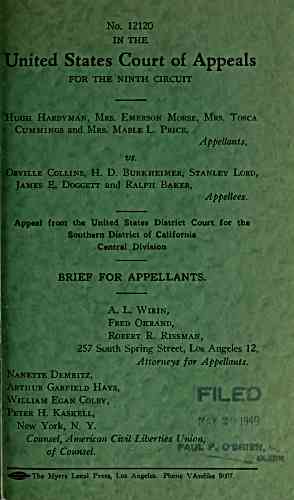 No. 12120
IN THE
United States Court of Appeals
FOR THE NINTH CIRCUIT
Hugh Hardyman, Mrs. Emerson Morse, Mrs. Tosca
Cummings and Mrs. Mable L. Price,
Appellants,
vs.
Orville Collins, H. D. Burkheimer, Stanley Lord,
James E. Doggett and Ralph Baker,
Appellees.
Appeal from the United States District Court for the
Southern District of California
Central Division
BRIEF FOR APPELLANTS.
Wirin,
Fred Okrand,
Robert R. Rissman,
257 South Spring Street, Los Angeles 12,
Attorneys for Appellants.
Nanette Dembitz,
Arthur Garfield Hays, ftf
William Egan Colby, ' iUfc
Peter H. Kaskell,
New York, N. Y.
Counsel , American Civil Liberties Union,
of Counsel.
The Myers Lecal Press, Los Angeles. Phone VAndike 9007.
---
archive.org Volume Name: govuscourtsca9briefs2563
Volume: http://archive.org/stream/govuscourtsca9briefs2563
Document Link: http://archive.org/stream/govuscourtsca9briefs2563#page/n770/mode/1up
Top Keywords (auto-generated):
section, 47, rights, private, individuals, federal, 241, civil, district, privilege, privileges, right, congress, supreme, protection
Top Key Phrases (auto-generated):
section 47, private individuals, section 241, civil rights, fourteenth amendment, federal government, legislative history, private individuals., discuss national, petition congress, national affairs, federal protection, code title, rights 1947, mosley 238
Document Status: UGLY