v2565-755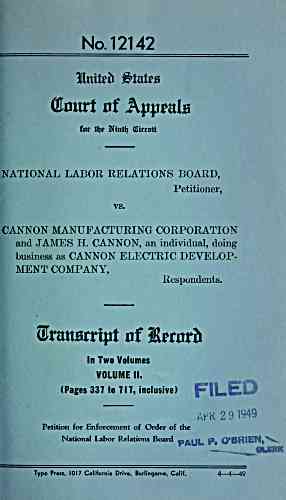 No. 121 42
(Hanvt of KppmiB
fox Hit Nintlr (Hmmt
NATIONAL LABOR RELATIONS BOARD,
Petitioner,
vs.
CANNON MANUFACTURING CORPORATION
and JAMES H. CANNON, an individual, doing
business as CANNON ELECTRIC DEVELOP-
MENT COMPANY,
Respondents.
Srattamjtt of Uorb
In Two Volumes
VOLUME II.
(Pages 337 to 717, inclusive) pL.EO
AKK 2 9 1949
Petition for Enforcement of Order of the
National Labor Relations Board pAijI P, 0'BRIBN
Typo Press, 1017 California Drive, Burlingame, Calif. 4 4 49
---
archive.org Volume Name: govuscourtsca9briefs2565
Volume: http://archive.org/stream/govuscourtsca9briefs2565
Document Link: http://archive.org/stream/govuscourtsca9briefs2565#page/n754/mode/1up
Top Keywords (auto-generated):
cannon, ryan, examiner, batten, right, employees, association, labor, relations, national, manufacturing, corp, election, work, plant
Top Key Phrases (auto-generated):
examiner batten, national labor, cannon manufacturing, labor relations, manufacturing corp., cannon employees, employees association, cannon electric, elsie monjar., los angeles, florence maynard, contact committee, shop steward, electric development, association inc.
Document Status: UGLY