v2574-449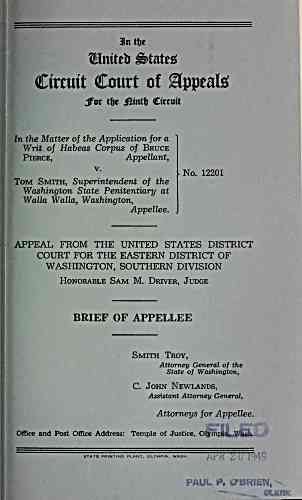 3n tl)c
WLnittb ^mti
Circuit Court of
jFox tlje iSintf) Circuit
In the Matter of the Application for a
Writ of Habeas Corpus of Bruce
Pierce, Appellant,
I'oM Smith, Superintendent of the
Washington State Penitentiary at
Walla Walla, Washington,
Appellee.
No. 12201
i APPEAL FROM THE UNITED STATES DISTRICT
COURT FOR THE EASTERN DISTRICT OF
WASHINGTON, SOUTHERN DIVISION
Honorable Sam M. Driver, Judge
BRIEF OF APPELLEE
Smith Troy,
Attorney General of the
State of Washington,
John Newlands,
Assistant Attorney General,
Attorneys for Appellee.
Office and Post Office Address: Temple of Justice, OfripijafcJjKh,
STATE PRINTING PLANT, OLYMPIA. WASH.
PAUL Pf a'BRIEN, ^
^ 0LKRK
---
archive.org Volume Name: govuscourtsca9briefs2574
Volume: http://archive.org/stream/govuscourtsca9briefs2574
Document Link: http://archive.org/stream/govuscourtsca9briefs2574#page/n448/mode/1up
Top Keywords (auto-generated):
washington, parole, sentence, 2d, prison, paroles, term, maximum, laws, reformatory, penitentiary, habeas, corpus, smith, oregon
Top Key Phrases (auto-generated):
habeas corpus, maximum term, chapter 114, interstate compact, yakima county, washington supreme, washington southern, walla walla, maximum sentence, honorable sam, eastern district, walla washington, smith troy, smith supra, smith superintendent
Document Status: UGLY