v2583-131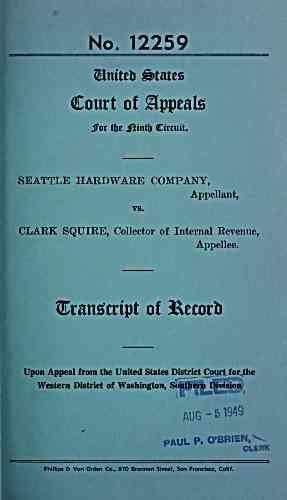 No, 12259
Winitth States
Court of Appeals
jfor tfjc Minii) Circuit.
SEATTLE HARDWARE COMPANY,
Appellant,
vs.
CLARK SQUIRE, Collector of Internal Revenue,
Appellee.
lransicript of Eecorti
Upon Appeal from the United States District Court for the
Western District of Washington, Southern Division
ftUG -51949
PAUL P. O'BBIEN,
Phillips (j Van Orden Co., 870 Brannan Street, San Francisco, Calif.
---
archive.org Volume Name: govuscourtsca9briefs2583
Volume: http://archive.org/stream/govuscourtsca9briefs2583
Document Link: http://archive.org/stream/govuscourtsca9briefs2583#page/n130/mode/1up
Top Keywords (auto-generated):
seattle, occident, hardware, trust, building, property, tax, stock, jones, basis, miller, corporation, capital, profits, lots
Top Key Phrases (auto-generated):
seattle hardware, occident trust, clark squire, excess profits, invested capital, profits tax, internal revenue, fair market, ended november, capital credit, income tax, block 327, occident investment, ira bronson, capital stock
Document Status: UGLY